Beauty & Self
Books & Music
Career
Computers
Education
Family
Food & Wine
Health & Fitness
Hobbies & Crafts
Home & Garden
Money
News & Politics
Relationships
Religion & Spirituality
Sports
Travel & Culture
TV & Movies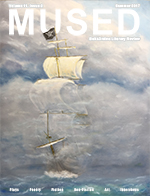 Our time on this Earth is fleeting and precious. We often know that in a vague, intellectual sense, and yet we can find ourselves whittling away those finite minutes without mindful thought. We should celebrate the beauty in a child's smile. The radiant sound of saying "I love you" to that special person. The warm touch of a hand. The delicate scent of a wildflower.

Enjoy the Mused Summer Solstice 2017 Issue



INTERVIEW 4 Eddie W Presley
SF/Fantasy Books - Evelyn Rainey, Editor

Fourth of four interviews with Fantasy Author Eddie W. Presley of the Dance of All Beings Cycle




SWU Open Source Email Templates Project
Digital Art and Design - Diane Cipollo, Editor

SendWithUs Open Source Email Templates Project has responsive templates for most email clients (readers). Free responsive email templates tested with Litmus.




Raymond Chandler on Hollywood
Drama Movies - Angela K. Peterson, Editor

Novelist Raymond Chandler, the creator of iconic private eye Philip Marlowe, was also the screenwriter of "Double Indemnity" and "The Blue Dahlia". All of Chandler's novels are set in Los Angeles and he is inextricably linked with the city and its most influential export - motion pictures.




Are There Solar Eclipses on the Moon
Astronomy - Mona Evans, Editor

Total solar eclipse: the Sun a black circle framed by an ethereal corona. Dark enough to see stars, and for birds to go to sleep – yet an eerie darkness unlike night. The Sun can also be eclipsed on other Solar System planets as long as they have moons. But what would we see from our own Moon?




Simple Window Coverings
Sewing - Cheryl Ellex, Editor

Unless the private unfettered view when looking out from a window is one of contemplative serenity - a serene pastoral scene, perhaps rippling waves at the edge of a pristine lake or of majestic snow-covered mountains, most windows benefit from some type of covering or enhancement.




BPA Harms Embryo Quality
Infertility - Hannah Calef, Editor

Keeping BPA out of your diet may help embryos to develop normally


| Google+ |
E D I T O R R E C O M M E N D E D
The Weiser Field Guide to Cryptozoology


The Weiser Field Guide to Cryptozoology by Deena West Budd includes information, interviews, and stories about forty different cryptids seen in various places all over the world by credible eyewitnesses like policemen, rangers, and doctors. Readers will learn where and how to find flying humanoids, hairy humanoids, giants of all kinds including rabbits, bats and spiders, goblins, and vampires.
Investing $10K in 2014


Looking to invest in 2014? This EBook will show you how to create a simple portfolio that helps you invest successfully in any year.
Paradise in Plain Sight


Paradise in Plain Sight: Lessons from a Zen Garden by Zen Priest Karen Maezen Miller, is both memoir and Zen guide. Maezen Miller shares experiences repairing and tending a historical Japanese garden in her own backyard, guiding the reader towards direct insight. It is beautifully written, honest, and relevant to the modern seeker of any faith.