Beauty & Self
Books & Music
Career
Computers
Education
Family
Food & Wine
Health & Fitness
Hobbies & Crafts
Home & Garden
Money
News & Politics
Relationships
Religion & Spirituality
Sports
Travel & Culture
TV & Movies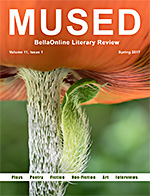 In our modern world of 24-hour diners and around-the-clock email, it sometimes seems as if we've lost track of nature's cycles. But then the Spring Equinox comes along and reminds us to pause. For thousands of years, cultures around the world have recognized this one special day as representing a balance of light and dark. It's a unique moment in time where our world settles in equilibrium – just for a breath. And then the sunlight shines out and pulls us deeper into Spring.

Enjoy the Mused Spring Equinox 2017 Issue



Heat worsens allergies
Allergies and Colds - Sheree Welshimer, Editor

Hot weather is a common allergy trigger




Cleansing Your Crystals
New Age - Deanna Leigh Joseph, Editor

Crystals are powerful conductors of energy, and this energy will affect our emotions and well-being. Because our crystal companions are exposed to lots of energies throughout our daily living (and not all of it is positive), it's important to know how, and when, to cleanse our crystals!




The Steel Kiss Book Review
Suspense / Thriller Books - Karen Hancock, Editor

While Amelia Sachs pursues a killer, a man falls inside an escalator; while trying to save the man, Amelia loses her killer. Lincoln agrees to help with a civil suit, and the suspense begins.




Congress and Education 2017
School Reform - Maeve Maddox, Editor

A principal goal of the 115th Congress is to abolish the federal Department of Education. Wherever you stand on the issue, you would do well to consider the ramifications.




Local Yarn
Crochet - Holly Messenger Aamot, Editor

Find ideas and inspiration for trying new things at local yarn sales




Ella Autie Book Review
Reading - Connie Mistler Davidson, Editor

Ella Autie by Catlaina Vrana is an informational picture book about autism that is written and illustrated by a young autistic woman. With charming illustrations and forthright text, it tells the story of a 4th grade girl with autism. The book shows how understanding autism can lead to friendship.


| Google+ |
E D I T O R R E C O M M E N D E D
True Balance by Sonia Choquette


This terrific guide gives you fun, everyday ideas with which to open and strengthen all seven of your chakra energy-centers, including the third-eye chakra and crown chakra which help you to connect with psychic phenomena and the divine.
It´s An Animal´s Life


Shopping is fun at It´s An Animal´s Life. When you´re looking for the perfect animal gift, look no further.
Investing $10K in 2015


Have you received a windfall or inheritance? Confused how to manage it? Many people find the subject of investing to be complex. It doesn´t have to be. You can manage your money yourself.