Beauty & Self
Books & Music
Career
Computers
Education
Family
Food & Wine
Health & Fitness
Hobbies & Crafts
Home & Garden
Money
News & Politics
Relationships
Religion & Spirituality
Sports
Travel & Culture
TV & Movies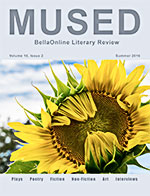 For many people, summertime is the perfect time to explore creativity. Plein air artists bring easels to gardens and beaches, showcasing nature's colors in oils, acrylics, and watercolors. Photographers ferret out a million sights to immortalize. Poets and writers stretch languidly beneath a shady oak tree, listening to the gentle buzz of insects, and constructing entire worlds out of the ether.

Enjoy the creativity of our community of artists - and then explore your own! We'd love to see your works for upcoming issues!

Summer Solstice 2016 issue of Mused

Rosie the Riveter
History - Vance Rowe, Editor

Rosie the Riveter is the icon for the women who stepped up to the plate and entered the workforce during World War II. American women made up fifty percent of the workforce during the war.




Fibro Fix Summit 2016
Fibromyalgia and CFS - Veronica E. Thomas, Editor

Fibromyalgia goes virtual. There are many resources for lectures and summits for fibromyalgia education. The Fibro Fix Summit is one of many educational materials that will be available to you. Some leading experts share valuable information...




How To Manage Your Brexit Stress
Stress Management - Debbie Mandel, Editor

Reeling from Brexit? Take a deep breath and know that in the larger context, this too shall pass. Change is usually destabilizing and many people already have a negativity bias. Overload and adaptation is the cycle of nature. Here's how to cope:




Mile High Patriotic Pie Recipe
Desserts - Karen Hancock, Editor

This light and fruity pie is perfect for patriotic celebrations. It's easy to make, and the filling is luscious. There will be no leftovers.




Watermelon Salad Americana Recipe
Quick Cooking - Karen Hancock, Editor

Looking for something festive to serve on the 4th of July? Red, white, & blue food is always a hit, and this salad is both easy and refreshing.




Skirret Uses and History
Landscaping - Connie Krochmal, Editor

Skirret has been used as a human food since ancient times. This largely neglected vegetable originated in Eurasia.


| Google+ |
E D I T O R R E C O M M E N D E D
Paradise in Plain Sight


Paradise in Plain Sight: Lessons from a Zen Garden by Zen Priest Karen Maezen Miller, is both memoir and Zen guide. Maezen Miller shares experiences repairing and tending a historical Japanese garden in her own backyard, guiding the reader towards direct insight. It is beautifully written, honest, and relevant to the modern seeker of any faith.
Turn On Your Inner Light by Debbie Mandel


This entertaining book offers easy to implement stress-management tools for 29 common life situations: techniques, visualizations and a fitness workout to get you off the couch. Take back your power and live more energetically. Don't vent - reinvent!
LoMásTv


Highly recommended product, if you really want to improve your Spanish. While watching the video you have the option to read, in subtitles, the words in Spanish and, if you also chose it, you can read the translation (in English) for it. Simply... ˇGenial!